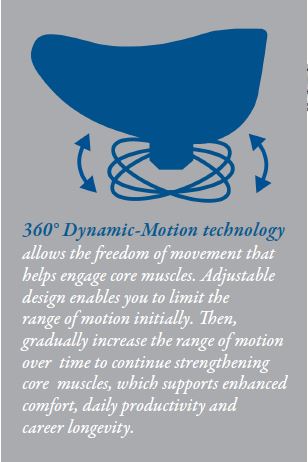 Our extremely popular 135AS saddle stools offer a custom fit and range of motion using exclusive 360 degree dynamic motion technology.
Exclusive 360° Dynamic Motion technology helps strengthen back muscles, reduce back pain & minimize sitting fatigue
Easily adjust seat height and level of dynamic motion desired with convenient control ring for optimal personal comfort
Available in three ultraleather colors of Dove Gray, Raven Wing & Papyrus
Amazone  offers a narrower upholstered seat design of 13-inches wide.
These saddle stools have been featured on Today's RDH with Kara Vavrosky, RDHEP and Dr. Bethany Valachi of Posturedontics.
Why our saddle stools are different:
The biggest differentiation with the Brewer saddles it the presence of the balance mechanism.  The balance mechanism
Moves the seat toward your center of gravity. This movement keeps the spine and pelvis in neutral balance.
The movement helps improve core abdominal muscle strength while reducing back pain and sitting fatigue
The movement also reduces pressure points on the inside of the thighs and pubic bone.
You can easily adjust the amount of resistance or "balance required" to your preference simply by turning the ring under the seat.
When combined with our softer foam, the result is a more comfortable saddle seat that allows for active seating, promoting greater concentration and better work performance.
Read Kara Vavrosky, RDHEP, of Today's RDH review of the 135 Saddle Series.